Updated 03/18/2018
No Alibi Rally 2018
For 2018, No Alibi Rally is venturing where it has not ventured previously. Starting just north of Olympia at the Hawk's Prairie Restaurant and Sports Bar (Marvin Road exit 111 off I-5), traveling via back roads to the Pacific Ocean, then to the banquet and overnight at the Red Lion in Kelso, and eventually finishing Sunday, back at the Hawk's Prairie Restaurant and Sports Bar where it all began. You'll see twisty roads, challenging hill climbs, beautiful scenery, exposures with views, and a whole lot more 'green' than on previous No Alibi Rallies. This year's event will be a "No Wheat Zone".

Date: June 2-3, 2018
Rallymaster: Roy Ward
Registrar: Eric Horst
Entry Fee: $225 per car pre-paid confirmed entry; $250 per car if paid at event. Saturday banquet $25/person; extra route book $15.
Registration:

Classes: Unlimited, Equipped, Seat-Of-Pants, Novice, Vintage (25 years old), Historic (1972 and earlier). See Supplemental General Instructions.
General Instructions: No Alibi will use the Rainier Auto Sports Club Touring General Instructions (PDF format) available in Rally Reference along with Supplemental General Instructions specific to this event. Please be familiar with the definitions of your selected class. Supplemental Instructions may change at any time until provisional start order is posted on May 31.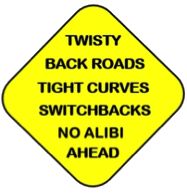 Entry List: this is the current Entry List. Start order will be posted on May 31 and will be seeded from pre-paid confirmed entries, entry order, requested number and registrar discretion.
Start: Lacey, WA. Hawk's Prairie Restaurant and Sports Bar, 8306 Quinault Drive N.E., Olympia, WA, 98516 (360) 459-0900
Overnight: Kelso, WA. The overnight hotel is the Red Lion in Kelso. We have secured a block of rooms at the special rate of $90 - $93 per room. Reserve rooms under the name "No Alibi Rally" to get the special rate. Code NOAL0602. A buffet banquet will be held on Saturday night at the host hotel. Hotel Restaurant opens at 6am for breakfast.
Saturday Night Banquet: We will be featuring a "Texas Q" Grill Buffet banquet at the Red Lion. The banquet dinner is optional, and is an additional $25 per person which should be paid with registration to guarantee a spot. Special dietary needs can be accommodated but you must contact the Rallymaster at least a week early. This banquet is a great opportunity to relax, recount the day, tell old lies or make up new ones. Don't miss it!
Finish Location: Lacey, WA. Hawk's Prairie Restaurant and Sports Bar, 8306 Quinault Drive N.E., Olympia, WA, 98516
Schedule (subject to change):
Saturday, June 2
07:30 Late registration and event check-in, Hawk's Prairie Restaurant and Sports Bar
08:15 Novice meeting
08:30 Driver meeting
09:00 First car out
18:30 First car arrives Kelso Red Lion, check in at MTC
19:00 BBQ dinner

Sunday, June 3
07:45 Driver meeting
08:00 First car out
15:30 Finish Lacey, WA
Event Apparel: No Alibi shirts are included in your entry. You will be asked size preferences upon registration. We will order extra but sizes cannot be guaranteed past May 2nd. Register early.
Pacific Coast Challenge International Rally Series: No Alibi Rally 2018 is proud to serve as Round 2 of the PCC series this year. Your participation and finish position in No Alibi earns points in the series. We encourage you to contest all four PCC events. Complete information on the series is available at the Pacific Coast Challenge Website.