Raindrop Rally 2018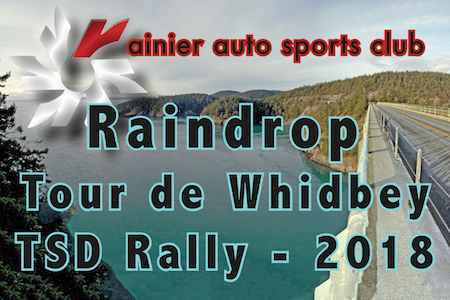 Raindrop Rally 2018 is a leisurely paced touring TSD event with fine driving roads, minimum traffic, and wonderful scenery. The rally is geared toward the novice entrant with no traps, and mileages for every instruction, but precise timekeeping will still be required to score well. Awards will be given for the following classes: Unlimited, Equipped, SOP, Novice, and Vintage. The rally will start at 10:30am and last 4-5 hours. It is approximately 145 miles long on all-paved roads suitable for any automobile.
Date: Sunday, April 29, 2018.
Start Location: Mobil Station, 1 S Main St, Coupeville, WA 98239.
Finish Location: The Farmhouse Restaurant, 13724 Laconner Whitney Road, Mt Vernon WA 98273. See below for dining information.
Rallymaster: Dolores & Richard Ranhofer
Photos:
Overall Results
Car #
Competitors
Class
Total
O/A
by Class
*Tie between car 5 and 3 was broken by sum of squares.
1
Charles Aggenbach & Mike Daily
UNL
9
1
1
2
Ajay Doshi & Max Vaysburd
UNL
23
2
2
6
Debbie Sjodin & Don Gibson
UNL
29
3
3
4
Maija Perala & Teresa Davenport
UNL
137
4
4
41
Jordan Keffer & Derek Ihler
SOP
206
5
1
11
Dave Monahan & Vasco dePinna
SOP
207
6
2
38
Brian Reilly & Bowen Anderson
NOV
243
7
1
25
Amelia Breithaupt & John Bartholomew
VIN
262
8
1
16
Bill Walsh & Jessica Fleenor
EQU
293
9
1
21
Marvin Weaver & Scott Weaver
SOP
308
10
3
8
Larry Sheatsley & Bob Chandler
SOP
316
11
4
5
Dave Sacry & Kathy Sacry
SOP
317
12*
5*
3
Curt Thompson & Rick Thompson
SOP
317
13*
6*
42
Steven George & Daniel Mors
NOV
343
14
2
7
Kevin Mullins & Denise M Mullins
SOP
394
15
7
35
Savannah Hoover & Kristi Berg
SOP
398
16
8
12
Adam Cleese & Robin Turner
EQU
435
17
2
10
Doug Breithaupt & Liz Quayle
VIN
463
18
2
15
Keith Lueneburg & Annie Bragg
EQU
478
19
3
18
Eric Hobbs & Suzanne Hobbs
SOP
494
20
9
23
Julia Syi & Jianing Wang
NOV
515
21
3
24
Alexandra Vresilovic & David Alspaugh
SOP
516
22
10
22
Scott A Margerum & Michael Workman
SOP
517
23
11
9
Gary Reid & Ed Millman
EQU
531
24
4
39
Ari Bezona & CANDY GALINDO
SOP
573
25
12
31
Chris Dirkes & Dave Kean
NOV
586
26
4
30
Trevor Grant & Lindsey Grant
VIN
698
27
3
28
Deanna L Isaacs & Robert K Isaacs
NOV
732
28
5
20
Alan Dorman & Tyler Osborn
NOV
775
29
6
40
Kenneth Lindsey & Michel Lindsey
NOV
816
30
7
29
Pam Rorvig & Mike Rorvig
NOV
835
31
8
19
Greg Ficker & Everett DeVlieg
SOP
862
32
13
34
Forrest Bourke & Kara Morgan
VIN
886
33
4
14
John Hartley & Evelyn Novak
NOV
1133
34
9
33
Thomas O'Connell & Troy Woolman
NOV
1134
35
10
13
Tracy Schwent & TBD
EQU
1510
36
5
26
Drew Shapiro & Taylor Pesek
NOV
1529
37
11
27
Kainalu Salus & Sheri Ikeda
NOV
1593
38
12
17
Alisa Rorvick & Mike Rorvick
NOV
2373
39
13
Detailed Results