Raindrop Rally 2019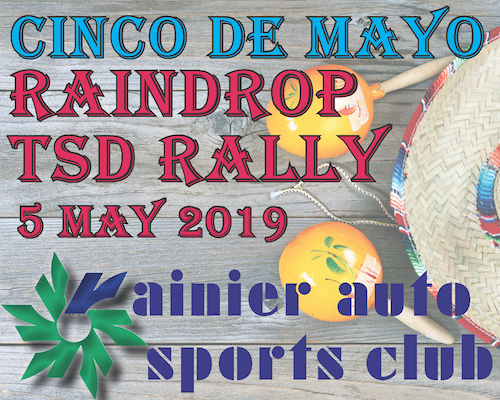 Raindrop Rally 2019 is a leisurely paced touring TSD event with fine driving roads, minimum traffic, and wonderful scenery. The rally is geared toward the novice entrant with no traps, and mileages for every instruction, but precise timekeeping will still be required to score well. Awards will be given for the following classes: Unlimited, Equipped, SOP, Novice, and Vintage. The rally will start at 9:30am and last 6 hours. It is approximately 188 miles long on all-paved roads suitable for any automobile.
Date: Sunday, May 5th, 2019.
Start Location: Lacey Forza Bistro & Event Center - 130 Marvin Rd SE #130, Lacey, WA 98503. 360-338-0925.
On-site registration opens at 8 a.m., First Car Out is 9:30.
Finish Location: Puerto Vallarta Restaurant - 1400 Galaxy Dr NE, Lacey, WA 98516. 360-412-5402.
First Car should arrive at approximately 3:40.
Rallymaster: Dolores & Richard Ranhofer
Overall Results
| Car | Name | Class | Total | O/A | By Class |
| --- | --- | --- | --- | --- | --- |
| 1 | Charles Aggenbach & Michael Daily | UNL | 51 | 1 | 1 |
| 2 | Paul Eklund & Yulia Smolyansky | EQU | 70 | 2 | 1 |
| 25 | Jordan Keffer & Derek Ihler | SOP | 158 | 3 | 1 |
| 12 | Bill Walsh & Jess Fleenor | EQU | 200 | 4 | 2 |
| 10 | Gary Reid & Don Whiting | SOP | 201 | 5 | 2 |
| 26 | Marvin Weaver & Scott Weaver | SOP | 248 | 6 | 3 |
| 3 | Pat Biggar & Rick Ross | UNL | 258 | 7 | 2 |
| 4 | Dave Sacry & Kathy Sacry | SOP | 275 | 8 | 4 |
| 14 | Drew Shapiro & Taylor Pesek | NOV | 355 | 9 | 1 |
| 8 | B Pan & Y Gu | NOV | 451 | 10 | 2 |
| 7 | Bob Chandler & Larry Sheatsley | VIN | 453 | 11 | 1 |
| 17 | Martha Lawrence & Mike Nagle | SOP | 454 | 12 | 5 |
| 23 | Troy Jorgensen & Cole Jorgensen | SOP | 515 | 13 | 6 |
| 5 | Debbie Sjodin & Don Gibson | UNL | 538 | 14 | 3 |
| 20 | Zhuofu Deng & Jibin Lyu | NOV | 602 | 15 | 3 |
| 22 | Kelso Pickett & Russell Highland | NOV | 631 | 16 | 4 |
| 9 | Daniel Diggs & Sara Gonzalez | VIN | 724 | 17 | 2 |
| 13 | Judy Russell & JR Russell | NOV | 863 | 18 | 5 |
| 24 | Yangming Chong & Chaomin Yu | NOV | 1031 | 19 | 6 |
| 27 | Christopher White & Twyla Blanksma | NOV | 1108 | 20 | 7 |
| 11 | Steve Roberts & Jack Heppes | UNL | 1221 | 21 | 4 |
| 19 | Jack White & Tammy shumate | NOV | 1609 | 22 | 8 |
| 15 | Derek M Johnson Love & Morgan Rogers | NOV | 1632 | 23 | 9 |
| 18 | Kendall Skye & Karalee Skye | NOV | 1853 | 24 | 10 |
| 21 | Yancy Wang & Nina Liang | NOV | 3573 | 25 | 11 |
| 16 | Steve McQuaid & Wendy S McQuaid | NOV | 3704 | 26 | 12 |